Jira Service Management ChatBot documentation
Configuring Responsa Chatbot for Jira Service Management is really easy.
Each company has its own needs in terms of Confluence knowledge organization and Jira configuration and it is important to consider them when configuring your ChatBot.
Follow these straightforward actions to configure the add-on in few clicks.
Log in to your Jira account
Choose > Applications > Manage apps
Select Upload app and upload Responsa add-on
Go to Responsa Configuration to open the settings page
Set your Responsa ChatBot ID and save
Log in to your Responsa account and complete the configuration of your ChatBot from the dashboard
Responsa Chatbot for Jira Service Management is the ready to use AI solution realized for a multichannel Customer Service experience that can be easily integrated into your existing Atlassian products and backend systems. Thanks to the connection with your Confluence Knowledge Base, Jira and its wide configuration capabilities it is easy to improve the workflow behind every request and to answer the right question at the right time.
Search your Confluence FAQs
Import your Confluence Knowledge Base of FAQs and make it searchable by users in a complete natural way to improve your customer service and save money with 24/7 first-level automated assistance.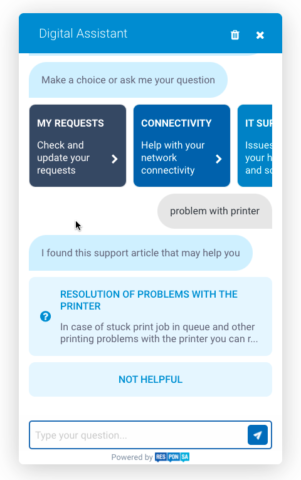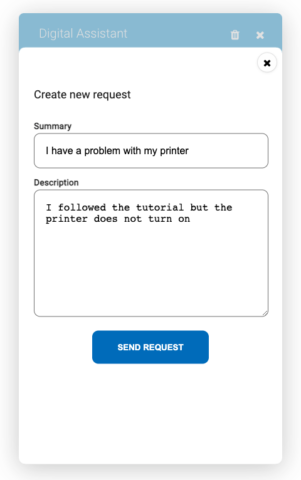 When needed, users can create a Jira ticket directly from the chat, with the help of the ChatBot that will help collecting the required data and choosing the right request type.
At anytime users can check the status of their tickets and update them with a comment that will update the ticket inside Jira.