Responsa nel rapporto Martech Italia 2022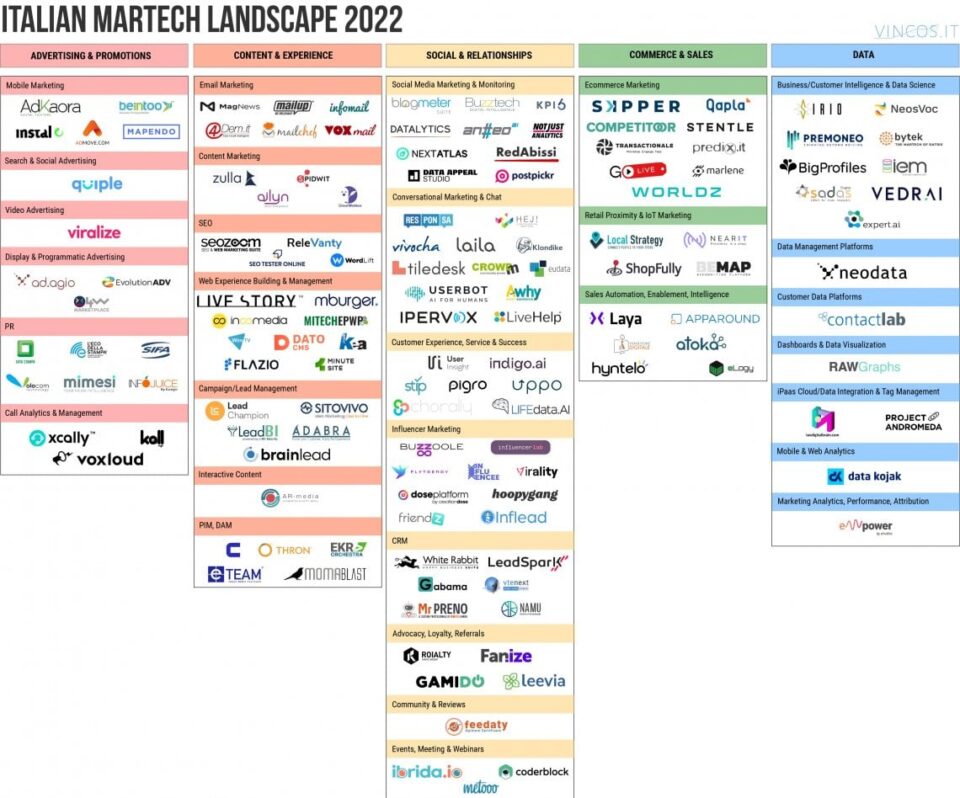 Il termine
"martech"
è stato coniato da Scott Brinker, VP di Hubspot e autore del blog
chiefmartec.com
, per identificare i software a supporto dei marketers e il loro incrocio con gli utenti che li utilizzano e i processi di business sottostanti.
Anche Gartner ha successivamente dato la sua definizione di martech:
Marketing technology (also known as martech) is a set of software solutions used by marketing leaders to support mission-critical business objectives and drive innovation within their organizations. Martech solutions focus on content and customer experience, advertising, direct marketing, marketing management and marketing data and analytics. 
Il mercato martech oggi conta più di 8.000 soluzioni a livello mondiale per un valore che nel già nel 2020 BDO, WARC e l'Università di Bristol hanno stimato in più di 120 miliardi di dollari con una quota di circa il 26% del budget di marketing.
Date le innumerevoli soluzioni che compongono questo spazio di mercato, agenzie e professionisti del settore hanno iniziato a mappare le diverse soluzioni disponibili per produrre dei report con lo scopo di guidare le aziende alle tecnologie di supporto al marketing.
Il primo rapporto sullo stato del martech in Italia, di cui siamo onorati di esserne parte con Responsa, è di Vincenzo Cosenza, uno dei massimi esperti e punto di riferimento per i professionisti del marketing.
All'interno del report troverai una mappatura delle soluzioni martech italiane e un'interessante intervista di Scott Brinker sulla situazione del martech nel mondo.